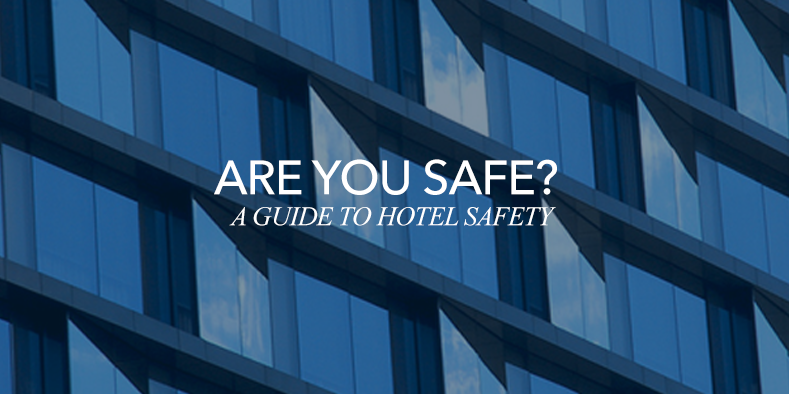 Whether you are traveling for business or pleasure, keeping your loved ones and yourself as well as your valuable possessions safe at hotels should be a priority in your mind. Here are a few security rules of thumb to keep in mind:
Make copies of important documents. Prior to your travel make copies of all credit cards, passports and ID in case of emergencies.
Secure your locks. Use the dead bolt and fasten the privacy latch or chain while you are there. It's surprising how few people use these additional security features.
Yes, you want the additional key. Even when traveling alone, ask for a duplicate key. You may even want to notify the concierge that you are in fact traveling alone so others will not be able to make up a clever idea such as pretending to be your wife/husband. It is very easy to retrieve the second key with a background story and a room number.
Don't open for strangers. Don't assume it's room service, use your security viewport when someone knocks. Even if they say they are room service call the front desk immediately and ask them if they sent maintenance. If you decide to open the door, leave the security chain engaged for further protection.
Use the main hotel entrance. Taking shortcuts may be dangerous. Always use the well-lit, busy, main entrance of the hotel to come in and out.
Buy a portable alarm system. If you travel often, you may consider purchasing a portable alarm system to ensure additional security.
Place personal items in your safe. Use the safe provided in your guest room or the safe deposit box at the front desk. Store keys, electronics, wallets, extra cash and small valuable items.
Housekeeping while you are there. Consider a housekeeping request while you are at breakfast, rather than leaving the service request sign on the door knob of your room.
Keep room number private. If you are parking at the hotel lot, be sure that your parking decal does not indicate your name or room number.
Request an upper floor room. Stay clear of ground floor rooms. They are more vulnerable to crime due to their accessibility and easy escape route. Keep in mind that although the higher floors are safer from crime they are dangerous in case of fire emergencies.
Keep the "Do-Not-Disturb" sign on the doorknob even when you are away. You may even try turning on the TV to deter room burglars.