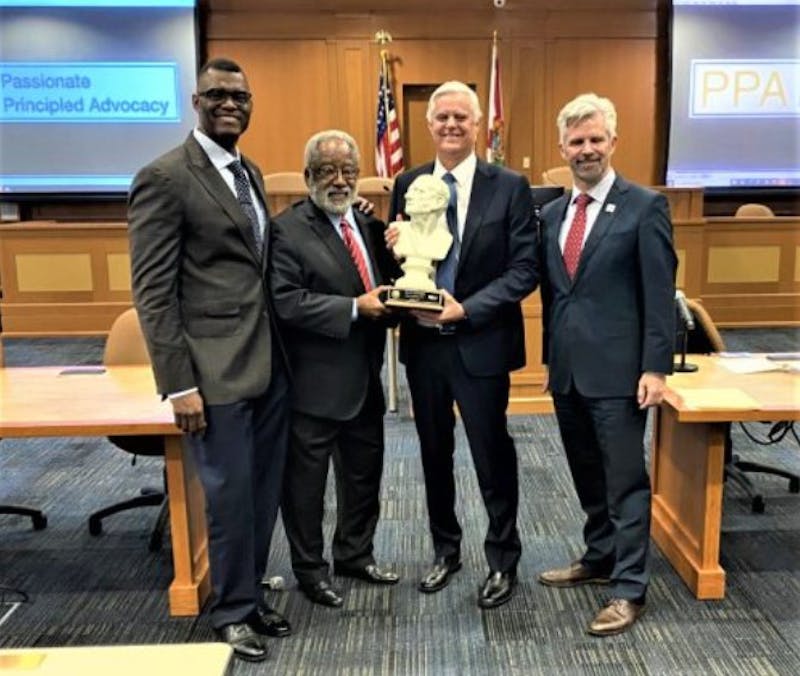 From FIU Law faculty news: The FIU College of Law Trial Advocacy Program recently welcomed powerhouse trial lawyer Alex Alvarez to FIU College of Law for Great Legal Storytellers 8.
GLS is the Trial Advocacy Program's signature annual event introducing students to the country's best trial lawyers and storytellers. The program allows students to be present with and proximate to the best trial lawyers in America and encourages them to strive for greatness when serving their clients and causes.
Alvarez spoke on his extraordinary career trajectory, from hometown Cuban son to nationally-recognized trial lawyer specializing in tobacco, mass tort, and medical negligence. His theme, "Life on the Front Lines: Reinventing Yourself to Stay Relevant," is something that Alvarez applies to his firm in his dedication to providing the best legal representation to his clients.
As the article states, Professor H.T. Smith, Founding Director of the Trial Advocacy Program, presented Alvarez with a bust of the great legal storyteller Marcus Tullius Cicero. Alvarez concluded his visit by moving into the small courtroom to conduct a special Q-and-A session for FIU Law Trial Team members and trial advocacy students.
About Alex Alvarez and The Alvarez Law Firm
Alex Alvarez is known as a trial lawyer for his courtroom battles against Big Tobacco—Philip Morris and R.J. Reynolds, who control over 86% of the total U.S. cigarette market. Alex has won over 30 verdicts against the world's largest tobacco companies, recovering approximately half a billion dollars in damages for his clients and their families. His win rate against the tobacco syndicate is unrivaled, reputedly among the highest.
The Alvarez Law Firm is a boutique trial practice with an unrivaled record and reputation for courtroom results. Its win rate against the giants of Big Tobacco rank among the highest in the country. The firm's multi-million dollar verdicts against large corporations in Pharmaceutical, Medical Malpractice, and Injury cases have established key legal precedents while delivering justice and due compensation for its clients and their families.